~You don't have to be a vampire to join~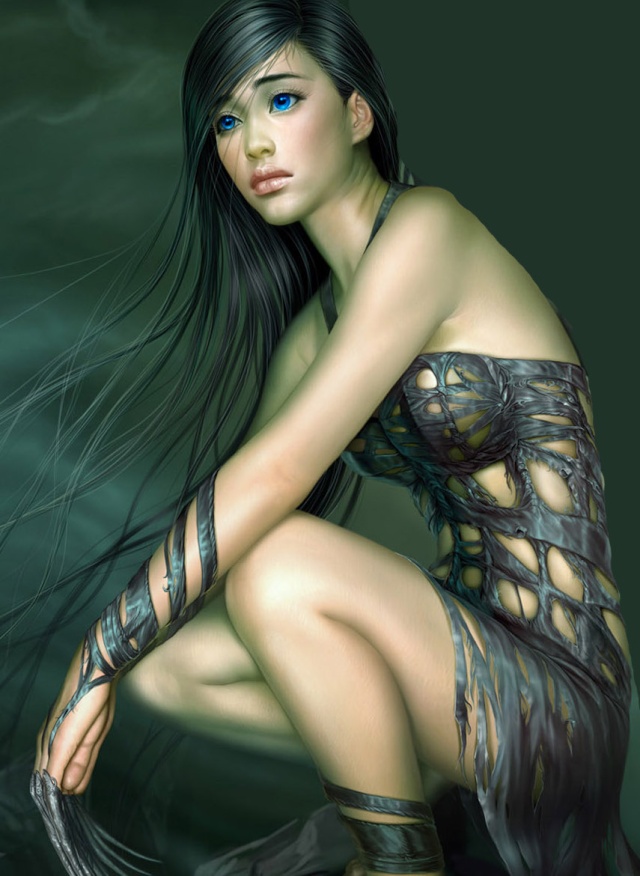 Demon:
Spoiler:
Given Name: Evangeline
Middle Name:
Surname: Laek
Appearance Age: 19
Actual Age: 19
Gender: Female
Race: Demon
Sexual Orientation: Straight
Teacher or Student? Neither

Hair Color & Style: Normal: Black-Straight and styled. Demon: Blonde-Straight and shaggy.
Eye Color: Icy Blue
Complexion: Pale
Height: 5'10"
Weight: 124 Lbs.
Markings: none
Apparel: Leather clothing along with short leather leggings.

Personality: Evangeline's attitude towards others may be neutral, depending on their attitude around her. If someone is snobby around her, she will be a bitch to them, just to get them to feel what its like. But on the other hand, if someone is nice to her, she may respect them if she thinks the nice ones deserve respect from her, which they usually do. When she is alone, she likes to go out into the darkness and stalk her prey like a tiger would. Evangeline also likes to meditate when frustrated sometimes.
Talents: Skinning, hunting, building.
Habits: Obsessive flirting with men, and biting.
Likes:
Flirting
Sleeping
Night time.

Dislikes:
Day time
Perky people
Bright colors



Element: Ice
Gift: (( Add one later))
Gift Description: (( add later))

Weapon: ((add later))
Weapon Description: (( add later))


Strengths:
Weaknesses:
Date of Birth: May 13
Birth Place: Unknown
Parents: Unknown
Siblings: None that she knows of
History: Evangeline was born on a Friday, May 13th. She was born by a mother that she has never known and never will know. She was left alone and grew up on her own, not know what she was, or where she was born. She was taken care of for only a few years in an orphanage, Elena Sumi was even one of those that helped take care of her, but when the people around her began to notice changes in Evangeline, she removed her immediately and that was when she was around 5 years old. Evangeline lived on her own from the age of 5, to 19. She only had clothes that she would make out of skins from animals. Evangeline did end up getting a few jobs to help her get some money, and when she did get money, she would buy some more leather clothes.
Evangeline would keep her little change of identity to herself unless she found someone she could really trust, which has not happened yet. When Evangeline kept roaming around the planet, she came across this academy that she had never heard of and thought that she would give it a chance, even though she might do some damage to it as well. She can be good some times, then also very bad too.
Based off template designed by Bliss on theforgottentime.darkbb.info/forum.htm


(Special thanks to Ceres for taking the time to put together this Character template. And Welcome to Vampire Academy.)