~You don't have to be a vampire to join~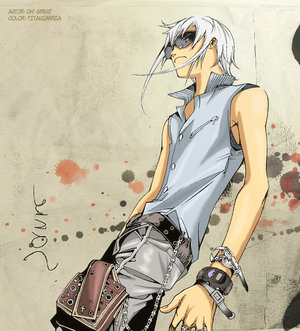 Given Name: Grana
Middle Name: Torino
Surname: Wolfe
Appearance Age: 18
Actual Age: 18
Gender: Male
Race: Human
Sexual Orientation: Straight
Teacher or Student? (or Neither) Student

Hair Color & Style: Silver/white kept short
Eye Color: Blue
Complexion: White
Height: 6'1"
Weight: 170 lbs
Markings: None
Apparel: Grana usaully wears very cool and urban type of clothing. Its weird but he actaully likes clothes, and keeps himself fashionable alot. He wears lots of bracelts and a watch. Mostly tight but not to tight clothing. Button shirts or vests and some nice pair of jeans. With expensive sneakers.

Personality: Grana has grown up with a pretty un-normal life.
This has changed his personality quite a bit. He is hard edged, Rude, lewd, vulgar, and nihilistic, Grana is somewhat of a anti-hero. He likes fights and will start one for pretty easy reasons. He's not entirely evil pursay, but his moral codes dont follow that of a do-gooder and trust and honesty. He does what he thinks should be done, no matter what it is.
He is very prideful and confident at times cocky and arrogant. Although he has these traits, he does take in other peoples ideas and opinions. He lives based on his core conviction and usually nothing else.
But he holds respect for those he sees deserve it. Although can be looked at as un-trustworthy, Grana is surprisingly loyal. If one has earned Grana's trust and respect they have gained one heck of a ally.
Talents: He is very talented at acrobatics able to perfom tricks and stunts on a olympic level, and maybe even passed that.
Poetry, Grana has a way with words he doesnt like to admit. But he writes very nice poems from time to time. But it will be very hard to catch him doing it
Grana is quite a gifted football player, he likes all sports. But he is very good at football. Position Running back. The people who see him play, just say he is naturally gifted
Habits: On random moments he will make out with a girl, but at times he usaully gets away with it. But he does get frequent slaps to the face.
Likes:
Dislikes:
Losing
were-beasts
kind people



Element: Ice
Gift: Pulse
Gift Description: Grana has gift where his mind and body increase to super-human level for a short amount of time. His reflexes, natural strenght, speed, and even thought of mind increase to a near super-human level. He calls it pulse, because everytime his heart beats its like a slow pulse. When using pulse everything seems to slow down to him and he can analyze a situation very quickly.

But the bad things are, Pulse should not be used in rapic succesion. It leads to internal pain and death. Grana cant use pulse more then three times in a row, then his heart will begin to pound rapidly nearly killing him.
Pulse doesnt last very long, it only lasts for about two posts then goes off.

Weapon: None
Strengths:
Weaknesses:
Arrogance
His style for fighting may leave him open.
Women



Date of Birth: August 17th 1992
Birth Place: New York?
Parents: Deceased
Siblings: none
History:
Grana was one of those children that was going to have a great home, with loving parents. Nothing else realy to count on, when it came to his life. This was supposed to be his life. But this never happened to him his life ended the day he was born. And it began a new, the day Grana was born he was left. His parents died, his mom passed away giving birth to him. She was already sick and ill. His father unable to take this, was outside the hospital and never returned. Grana as a infant was left in the hospital for a couple of days, and was never picked up.
They decided to send him to a orphange. But before they took him someone came to claim him, and somehow was able to fill out everything. He was a mysterious man tall and a look that people would just step away from.
Years passed and Grana just grew up being trained to kill. The man's name was Nicholas and he believed something just needed to be killed. Other races and things alike. Although some of the things he did helped society, they were some screw loose vamps and were-beasts running around. He was training people to handle that. Grana was one of them.
When Grana was a teen life to him was perfect, killing vampires not getting caught and being good at it. He grew thinking violence was the answer to some things. Was that what Nicholas wanted to teach entirely no. But Grana wasnt the listening kind sometimes. He grew being arrogant and quite cocky, feeling as if he was the best at slaying other races. Although he was becoming that. He was trained in martail arts and everything alike in order to survive, he learned to use his gift and element very well. Better then his allies. Nicholas at times found Grana hard to deal with, but he also grew to love him like a son.
Him and his group worked like assaissan's, killing the ones that needed to be taken care of. For all races, Grana did it for nothing more then the fun of it. He considered it a sport a competition and he loved to compete. All his life he was raised with blood on his hands and showing no mercy. Nicholas decided to move the group along and keep travelling, everyone was allowed to come except for Grana. He was too stay and in-role in school vampire academy. He was agaisnt it at first. But Nicholas convinced him somehow, and that was it. Grana is now starting Vampire Academy, but not to learn and build character but to cause mischief and a bit of chaos.
Grana Wolf will soon be taken by men that he was missioned to kill and was forced to have a demon's spirit put into him, making him a demon.
Based off template designed by Bliss on theforgottentime.darkbb.com/forum.htm


(Special thanks to Ceres for taking the time to put together this Character template. And Welcome to Vampire Academy.)