~You don't have to be a vampire to join~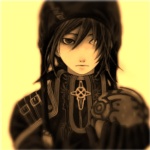 Given Name: Kage
Middle Name: Milic
Surname: Stankovic
Appearance Age: 16
Actual Age: 16
Gender: Male
Race: Vampire
Sexual Orientation: Straight
Teacher or Student? (or Neither) Student

Hair Color & Style: Long dark-brown
Eye Color: Brown
Complexion:white
Height: 185 cm
Weight: 59 kg
Markings: burned hands under his gloves
Apparel: black gloves,black jacket and black jeans with white markings

Personality: Kage isn't a guy you would call to talk to, he isn't shy but his experience taught him to pick his friends very wisely. He does not like to fight, but if he can't avoid it... When around people he tries to get away from them... He is a type that is best left alone...
Talents: Guitar talent
Habits: He has a habit to avoid people,but when someone is hurt he aids them.
Likes:
Dislikes:

Element:Water
Gift: Water Adjustment
Gift Description: Whenever Kage is surrounded by water, his speed and hearing increases.
His left eye turns white so his eye sight decreases.

Weapon:
Strengths:
Good Reflexes
Doesn't like to fight
He knows Serbian language
Very resistant to pain

Weaknesses:
he isn't very strong
math
handwriting
numb feeling in left side of his body


Date of Birth: 10th February
Birth Place: Unknown
Parents: Unknown
Siblings: Unknown
History:
After Kage's birth, he had a dark ritual done on him. The dark ritual was a curse that changed him completely. After the ritual he didn't feel his body's left side.The reason why this dark ritual was preform is that to weaken him in the future. His parents where killed by a unknown enemy,they wanted to kill him too but they let him live and cursed him. He was put in an orphanage where he learned that he had a strange ability when in contact with water. Soon after his friends started to avoid him. When he was 10 he found out that he started to write songs and play the guitar. Drowning his pity and loneliness in the darkness he started to enjoy the quiet... Two years latter he noticed that he had a strange feeling... For killing and feeding on the victims blood... That's when he learned that he was a vampire... He started to move from one country to another... Feeding off people and he finally found his new home in Serbia... A Europe country... There he worked at a shop and lived in a abandoned house...
Five years latter he learned about a Vampire Academy... So he desperately tried to get in the academy... Which he finally did... All he though was about the people there and how he could finally find friends...
Based off template designed by Bliss on theforgottentime.darkbb.com/forum.htm


(Special thanks to Ceres for taking the time to put together this Character template. And Welcome to Vampire Academy.)